Reprinted with permission of Illinois Leaks:
Algonquin Township Road District – Bob Miller/Party
BY KIRK ALLEN ON MAY 20, 2018 • ( 4 COMMENTS )
McHenry Co. (ECWd) –
Taxpayers of Algonquin, the party was on your dime and paid for with May 2017 bills for the Road District.
I wonder what Road District public business this was tied to just two weeks before leaving office?
Sometimes words are not needed.
Our work is funded entirely thru donations and we
ask that you consider donating at the below link.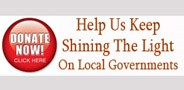 = = = = =
I changed the headline after Nob, a usually reliable source for Road District information, wrote, "The retirement party was not for Bob, it was for another employee that served 39 years."