From gubernatorial hopeful Jesse Sullivan:
Bailey at Rally: "I will not lie to anyone"
Bailey at Debate: Lies 3x
PETERSBURG, IL – On Saturday, Darren Bailey told a rally crowd "I will not lie to anyone." (VIDEO) But just two days prior, Darren Bailey blatantly and casually lied about the Taxpayer Protection Pledge, his own tax record, and his stance on woke indoctrination in schools.
"Conservatives deserve–and demand–a governor we can trust," said Jesse Sullivan, businessman and outsider candidate for governor. "My values are rooted rock-solid in my faith, and that's a night-and-day difference from these lying politicians who sell out their conservative base the first chance they get."
The last Republican governor in Illinois, Bruce Rauner, campaigned as pro-life, but signed a stunning betrayal of pro-life values by putting Illinois taxpayers on the hook for elective abortions. Rauner campaigned as a fiscal conservative, but allowed income taxes to rise on his watch.
Darren Bailey isn't waiting until he's in office – he's blatantly lying to conservative voters already.
Bailey Lie # 1, on Taxpayer Protection Pledge: (VIDEO) "It must be your made-up pledge, because I am not aware… Gary, and Paul, did this guy make this up? Because I don't know what he's talking about…" (Background)
Fact: Darren Bailey SIGNED the Americans for Tax Reform Taxpayer Protection Pledge as a state representative in 2018 (Source). But that pledge does not apply to his run for governor (Source). Now that Darren Bailey was reminded about the pledge onstage, will he join Jesse Sullivan in pledging to not raise taxes – and if not, why?
Bailey Lie # 2: Sullivan: "I think people deserve to hear, to actually answer the question – don't dodge it like Richard Irvin – did you raise property taxes 14 times? Bailey: "No I did not. No I did not." (VIDEO)
Fact: Bailey served on the North Clay Unit 25 School Board for 17 years (1996-2012), during which he voted to raise property taxes at least 14 times for a total increase of 83%. (Source: Clay County Treasurer's office / Illinois Department of Revenue and WCIA-TV)
Bailey Claim 3: Moderator: "They saw you on Fox News, and you said you'd allow a Skokie school district to teach sex ed to preschoolers, so how do you give local control but still protect our children?" Bailey: "Thank you, and I clarified this at the end, and it was actually in the end of the article and I wish they would have read farther…" (VIDEO)

Fact: (Fox News, 6/7/22): "Bailey has no intention of banning subjects from being taught from the governor's desk, a departure from Republican Florida Gov. Ron DeSantis' new education law that made national headlines earlier this year." Bailey: "If a local community wants to adopt these woke policies, then let them! That is their decision." … "but if that's what they want, that's their community." (:09 of video – Fox News: GOP hopeful Darren Bailey vows to restore 'local control' as Illinois governor, touts 'America First' agenda)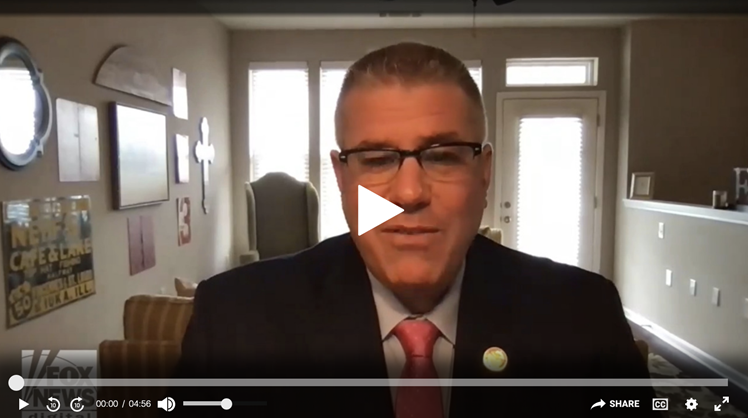 "Darren Bailey seems to have become such a politician that he can't keep his facts straight," said Andrew Welhouse, spokesman for the Sullivan campaign. "Last night he blatantly lied about his own record on taxes, and then he 'conveniently forgot' about the Taxpayer Protection Pledge that he himself signed previously! Voters aren't going to fall for it, and after being burned so many times before, we deserve answers."